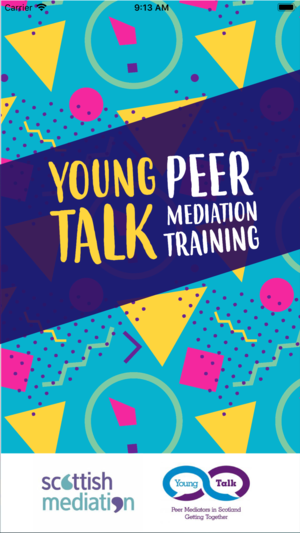 Welcome to the peer mediation section of this site.
Young Talk is a pilot project developed by Scottish Mediation in order to support peer mediation in Scotland. Please don't hesitate to drop us a line via email with any feedback, comments or just to say hi. You can also get in touch via social media or contact Sarah Welsh on sarah@scottishmediation.org.uk and stay updated on what we're doing.
I hope you are all keeping well and keeping safe in these very difficult times regarding Covid 19. I am sure that like staff at Scottish Mediation you are working from home where it is possible. I want to keep things moving in relation to Peer Mediation and be prepared when we get back to normal. Therefore it is important to say that Peer Mediation training will be up and running when we can, so watch this space, and Twitter. You can also check out my blog on Peer Mediation HERE
Also following the recent very successful Peer Mediation Training for trainers course in March.  I would like to let everyone know that there is another course planned for the end of the year. Obviously with the current situation I am unable to set a specific date but when things change I will publish this on the web site.
Remember there is also our Young Talk APP (picture above) that you can access via smart and android phones under Young Talk peer mediation.
If you would be interested please get in touch with me by email, I am currently working from home and will check my emails on a regular basis.  Also please contact me if I can be of any help regarding peer mediation or training for staff.