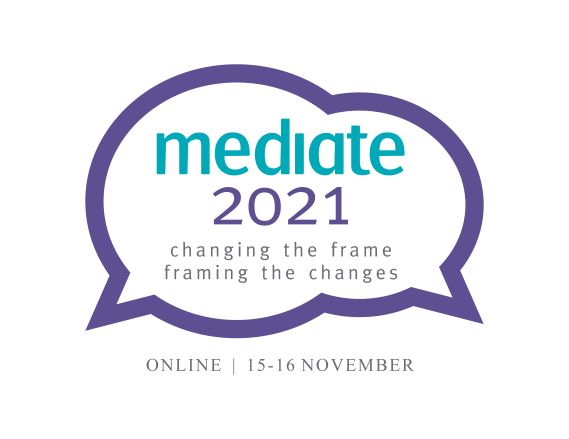 We're delighted to announce details of our 2021 annual conference, Mediate 2021 on Monday 15th November 9.00am-1.00pm and Tuesday 16th November 1.00pm-5.00pm.
Taking place over two half days our theme this year is abut Changing the frame of mediation in order to widen engagement with it across society. On Monday we hear from David Liddle who is not only a successful author on management and organisations but also CEO of the TCM group delivering workplace mediation across the UK. `We finish the day with a panel discussion on what we have learned from online mediation and what the future holds. On the Tuesday we welcome Liz Stokoe Professor of Social Interaction at Loughborough University. Her recent research relates to what many view as core aspects of mediation practice, rapport building and the use of open questions. We're sure that what she has to say will raise some eyebrows and challenge our views. We finish the conference with the person who has provided the inspiration for our theme, Dr Anna Howard. Through her research on cross border mediation she has found that if we are to se a greater use of mediation we need to promote it in a way which complements rather than being posed an an alternative.
Over the two days there will also be a range of workshops providing an opportunity for discussion and to meet other delegates.
Link will be sent out nearer the time.
For more information and to book this event please click HERE
For the brochure/programme please click HERE