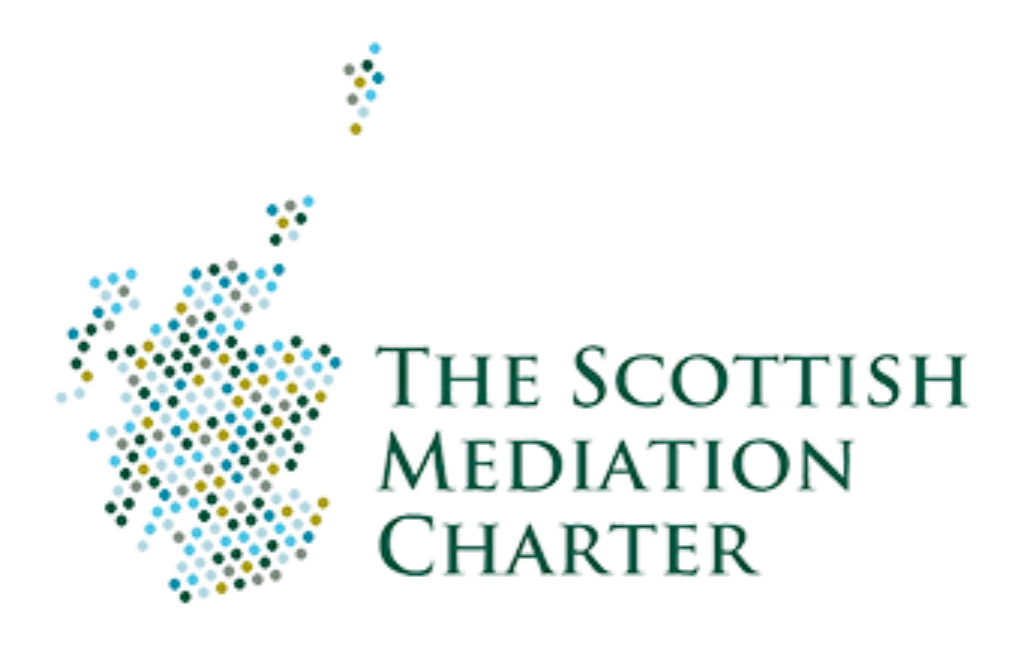 Back in 2020 Scottish Mediation launched the Scottish Mediation Charter. The purpose of the Charter was to highlight the positive impacts of using mediation and the skills of mediation as part of the day to day working of organisations.
Since the launch we've recruited organsations large and small and it is now supported by Universities, Local Councils, Businesses, and Charities. The reason I am highlighting the Charter just now is that since we have started to attend events more and more people have been asking about it so it seemed like a good time to reflect on what it is and what's involved.
The Charter is a simple commitment that asks organisations to do two things. The first is a give a commitment to use mediation where appropriate, the second is to create opportunities for  people in their organisation to gain the skills of mediation.
So what does a commitment to mediation mean for organisations? Scottish Mediation believes that the use of mediation and mediative approaches leads to more productive working and business relationships, better governance, and helps the development of an inclusive culture. Mediation is a good way to resolve the disagreements that will arise in any workplace that is creative, that protects and restores relationships, and provides longer term solutions. When engaged with willingly and in good faith , mediation can be a timely, affordable, and empowering way of resolving those disagreements.
For some larger organisations a commitment to using mediation can become integral to the way an organisation works. In Scotland, the Universities of Dundee and St Andrews have trained their own mediators to help resolve all sorts of disputes. These  can involve issues in human resources management, complaints, and dysfunctional teams where an independent voice working inside a confidential discussion can often help to get to the bottom of things  that might not have been surfaced  but which are the real causes of a problem.
Not every organisation might have the capacity to make the investment in creating an internal team of mediators but even  something that allows the spread of the skills of mediation in an organisation can lead to better conversations where people are trained to listen effectively. The ability to resolve disputes at an early stage can also go a long way  to avoid the time and cost that is  involved in dealing with formal internal discipline or grievance procedures and, even worse, in defending a  court or tribunal claim. I know that when I received my mediation training my immediate reaction was that I wished I had trained thirty years earlier as I saw how it would have helped me in my previous management roles.
I think the impact on culture can be profound for all organisations. The benefit of being able to create safe spaces for conversations is that it can help to promote innovation and creativity and to better understand the issues that need to be tackled. Often those sorts of conversations only happen  when an extra effort is made to create a place for them to happen such as at an away day so  being able to support such thinking on a day to day basis can be a very valuable way to help to promote quicker responses and clearer thinking. Very often people might be thinking the same thing but are reticent about raising an issue because that is  seen as too challenging. Having people insider your organisation with the skills to tease out issues through good listening and targeted questioning can get those issues out into the open and onto the agenda.
So;  if you wanted your organisation to commit to the Charter, how would, you do it?  Your first port of call would be the Scottish Mediation website www.scottishmediation.org.uk. Click on the Scottish Mediation Charter logo and you can  find all the information you need. Why not  give us a call on 0131 556 1221. Our staff are able to advise on where you can access training, give you examples of how other people have used mediation to great effect  and talk through any questions you may have. We'd love to hear from you.